Posted by Anita Marchesani on Aug 25, 2014
Guest Blog: Zoe Harrison, Coach, author of "Riding with Feel" and Sprenger Bit Agent.

From the earliest times bits have been made from an assortment of materials, including bone, wood, iron, alloys of brass, stainless steel and during more recent times there has been a desire to produce a metal that is most acceptable to the horse and gives the rider control.
In1872 Hermann Sprenger founded a factory for riding accessories.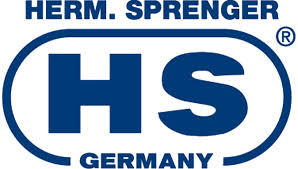 For over 135 years the combination of hard work, commitment to excellence and innovative technology has enabled Hermann Sprenger to attain its current position as the world leader in bit design and production. Decades of experience in manufacturing, an extensive market knowledge and collaboration with professionals from the fields of equestrian sports, veterinary medicine, design and research constitute the basis for the development of international standards.
For Hermann Sprenger the demand for quality begins with the selection of raw materials and the sensitive composition of their patented alloys. AURIGAN (85% copper, 4% silicon and the remainder zinc) produces a distinctive and pleasant taste that encourages horses to chew and produce saliva which promotes the rapid acceptance of the bit. AURIGAN has a distinctive golden colour due to the high copper content.
With the recent introduction by Hermann Sprenger of SENSOGAN the taste and salivation aspects of Aurigan are now given a more delicate and sophisticated connection to the horse with the introduction of manganese. This combination results in a smoother and more regulated process of oxidation. As a crucial component and activator of enzymes, manganese is highly relevant for building up connective tissue as well as for muscle and energy metabolism. It can therefore be helpful in preventing muscle tension and in supporting stress reduction. Beyond that, manganese is needed for the reduction of histamine and can prevent allergic skin reactions. The feed industry discovered manganese to be a promising food additive that is gaining in importance in modern feeding of sport horses.
Previous research and development in conjunction with expert riders and trainers means that designs such as the KK Ultra, the RS Dynamic, the loose ring snaffles and weymouths are still available in both materials.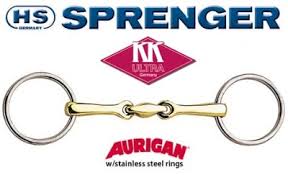 The Sprenger seal of quality guarantees safety and precision workmanship.
When trying a bit, the horse will be the best indicator as to its suitability.
Head tossing, crossing the jaw or an unwillingness to accept the aids can all be signs that the horse finds the bit unacceptable.
18 August 2014. Zoe Harrison.
Find out more from Zoe at her facebook page and website.