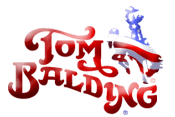 Tom Balding bits was established in 1984. Tom grew up in Ontario, California, a city located about 40 miles east of Los Angeles. It was the 1960s and an entrepreneurial heyday for southern California. Thousands of machine shops did contract work for aircraft companies or specialty fabricators. Balding is self-taught. He began welding custom hot rod engine parts, for Hooker, the day he graduated from high school. He started his own company, mastering difficult welding techniques and working with many different materials. For almost ten years, he made sailboat equipment for Hobie and is a certified aircraft welder for the US Government.
However, he wanted a different life than the greater Los Angeles area offered. In 1980, after exploring the west, he bought a house and a little piece of land outside Buffalo, Wyoming, a town of only about 6,000 people. He welded only occasionally, preferring to take odd jobs: carpentry, personal sales, or working as a ranch hand. He also taught himself how to ride; and trained his own horse.
One day in 1984, a woman asked him to weld a broken bit. The task changed his life. From that moment on, Balding knew he would design and fabricate bits and spurs.
Eventually, in 1998, World Champion Horseman, started using Balding's bits. Word got around the western horse circuit that Balding's bits were the best that money could buy - Balding continues to make all his bits and spurs from scratch. His business may have expanded to thousands of orders, but he maintains quality control and treats his small staff like family. In addition to his standard line of equipment, he does custom work for professional horsemen and women around the world. He seeks their feedback, too, always eager to improve his product and ensure customer satisfaction
Leading The Industry:
We craft state of the art bit and spur designs backed by industry leading technology and innovation for riders seeking a balanced product that offers ease of use, quick response, better movement, and a longer product life. We work directly with world class professional riders and trainers to ensure all your needs are met. We are the best, and though often copied we are never duplicated.
Satisfaction Guarantee:
We understand this is an investment and want to ensure you are 100% satisfied with the bit you purchase. If you receive a product and are, for any reason, not satisfied with the craftsmanship please give us a call and we will make it our top priority to make it right.
Warranty:
Tom Balding Bits & Spurs warranty covers any defects in materials or workmanship. We do not warranty normal wear and rust.